As the situation regarding Coronavirus (COVID-19) in Australia and around the world continues to evolve, RIDBC has reluctantly put our upcoming events on hold indefinitely. We will monitor events closely throughout 2020.
We hope that you and your loved ones are keeping safe and well during this challenging time. RIDBC's commitment to continue to deliver life-changing services to people with hearing loss or vision impairment is unwavering.
It is because of you that we are able to provide vital services, support, and education to those who need us – the people in our community who are among some of the more vulnerable during this time of crisis.
Now, more than ever, we rely on your support as the unprecedented challenges before us impact RIDBC. There are many ways you can get involved with RIDBC during this crisis – including donating to our cause, entering our Rainbow Lottery, or helping to provide therapy for children like Jaylan.
We thank you again for your encouragement and assistance.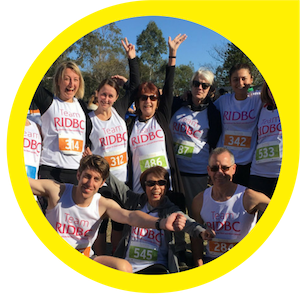 Your support is unli'mited
Tighten those laces and let's get ready to make a difference! Whether you're in it for a fun day out or to achieve a personal best, make every step count by fundraising for Australians with hearing or vision loss as part of your run, walk or cycle.
You will help provide adults and children with equal access to communication, education, literacy, therapy and health services that will enable them to live a life unli'mited. Together we will make a difference!
Need more information before choosing your event?
Contact Sofi your fundraising coach!