Grant funding is often the catalyst for the development of innovative programs that have great outcomes for Australians with hearing and vision loss. Grants awarded in 2017 by private trusts, foundations and funds supported programs and services across the organisation.
Preschool Review
In keeping with the recommendations of the 2016 preschools review, a preschool support service model was designed in 2017 to allow children in the community preschools to be supported by RIDBC staff with expertise in working with children with vision impairment, or who are deaf or hard of hearing.
The PREP Project, co-funded by The Hildanna Foundation, the JLDJS Foundation and the Shaw Foundation, enabled RIDBC to collaborate with community preschools in order to reach and support children with vision impairment across all areas of Sydney.
A dedicated team of RIDBC specialists: speech pathologists, physiotherapists, orthoptists, access technology specialists, and psychologists developed an intensive program that can be individualised and tailored to meet the needs of the mainstream preschool as well as individual children and their families. This program will ensure children with vision loss are able to be successfully included alongside their peers in a community setting.
The grants also funded the purchase of resources to establish a pool of loan equipment for mainstream preschools. As a direct result of the PREP program, many preschools have expanded the scope of their service provision to children with disabilities.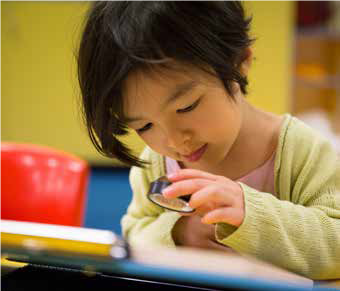 Auslan Tutor
The Auslan Tutor was developed by RIDBC technology and education specialists to help anyone aiming to learn Australian Sign Language (Auslan) and wanting to communication with someone who is deaf.
This highly successful app was launched seven years ago and continues to be updated with new features. In 2017, RIDBC's developers focused on adding features to assist users to understand and tailor the app to suit their own learning needs, also increasing the number of signs available.
The redevelopment, co-funded by the James N Kirby Foundation and the Thyne Reid Foundation, is being undertaken by Auslan and deaf education specialists in consultation with the Australian Deaf community.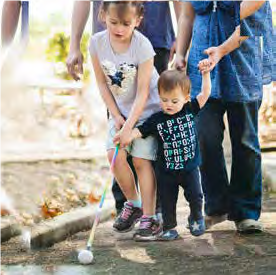 Parent Mentoring Program
Children who are deaf or hard of hearing who cannot simply 'listen in' to everyday conversations need to be immersed in a rich language environment to develop their speech and language.
With the support of the Olsson Property Group Trust, RIDBC developed a parent mentoring program to ensure that families of children enrolled with RIDBC's Early Learning Program (Hearing Impairment) have the skills to provide the rich and directed language environment their children need.
The program offers short-term, intensive, and targeted mentoring for parents aimed at boosting their confidence and engagement with their child. It has been designed to upskill parents in specific strategies that are known to support parent-child attachment and stimulate language, leading to stronger parent-child relationships and optimal language learning for each child.
Ausgrid Employees' Children's Appeal
Australian Chinese Charity Foundation
Australian First Foundation
Birchall Family Foundation Trust
Brian M Davis Charitable Foundation
Bridgewater Foundation
Bruce & Joy Reid Trust
Club Jervis Bay ClubGRANT
Commonwealth Bank Foundation
Datt Family Foundation Pty Limited
Dee Why RSL Club Limited ClubGRANT
Duchen Family Foundation
Gladys Stone Foundation
IOOF Foundation
James N Kirby Foundation
JLDJS Foundation
Kathleen Breen Children's Charity Trust
Kool Nominees
Lazberger Family Fund
Liangrove Foundation
Macquarie Group Foundation Limited
Maple-Brown Family Foundation
Marich Foundation
Mutual Assistance Society, Sydney
Nell & Hermon Slade Trust
Neumann Benevolent Foundation
Newcastle Permanent Charitable Foundation
Olsson Property Group Trust
Parramore Family Foundation
Payne Family Charitable Fund
Perpetual Foundation - Sibley Endowment
Ronwynne Foundation
Rotary Club of Carlingford
Skipper-Jacobs Charitable Trust
Suncorp Brighter Futures Foundation
The Amelia Eliza Holland Trust
The Belalberi Foundation
The Denton Family Trust
The Dick and Pip Smith Foundation
The Donald Boden Memorial Trust
The F M Bradford Endowment
The George Lewin Foundation
The Hargrove Foundation
The Hildanna Foundation
The J & G Bedwell Endowment
The John Bedwell Endowment
The Johnson Family Foundation
The Lady Fairfax Charitable Trust
The Perpetual Foundation
The R A Gale Foundation
The Rydge Foundation
The Shaw Foundation
The UBS Australia Foundation
Thomas Hare Investments Trust
Thyne Reid Foundation
U & A Foundation
We greatly appreciate every contribution received and would welcome the opportunity to provide details of project and program funding needs for 2018 and beyond.
If this would be of interest, please contact RIDBC's Grant Program Manager on (02) 9872 0249.