Loud Shirt Day
Ian Reid Vendor Advocates are getting loud for Loud Shirt Day on Friday October 19th.
Loud Shirt Day is an excuse for us to wear our brightest clothes and raise money to help give the gift of sound and speech to children who are deaf or hearing impaired.
We are looking for your support for this worthy cause and you can help by donating to our team!
Thank you to our Sponsors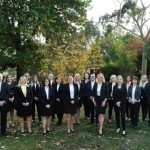 Ray White Croydon Terence Roddick Ainsley Hanlan Bev Harris Marcus Anderson Natasha Roddick Melissa Mackay Sue Woollard